Puzhen Aroma Diffusers recently sent me their Yun diffuser to try out. And guess what? The Puzhen essential oil diffuser has truly changed the way I relate to diffusing essential oils.
I've always used electric diffusers and have had a few that worked well, but never one this beautiful! I didn't know what to expect from the Puzhen essential oil diffuser, and it surprised me in every way.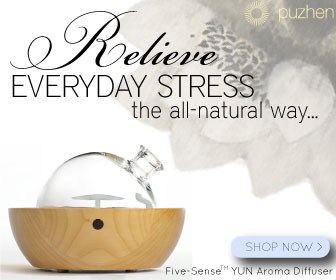 Puzhen's product series utilizes ancient Chinese craftsmanship and modern technology to create high quality aromatherapy diffusers. They have eight different diffusers, ranging in price from $59-$469. Click the photo to visit their collection of diffusers.
This is what they say about the diffuser I have:
"Puzhen Life's Five-Sense™ Yun Aroma Diffuser helps balance mind, body, and soul by engaging your five senses. Gently diffusing essential oils for aromatherapy, Yun purifies the air, creating a relaxing ambiance. Yun plays built-in soothing music and can connect to an external MP3 player. Soft LED lights contribute to the serene atmosphere to calm stress and create peace. With a handcrafted Maplewood base and hand-blown glass top, Yun's unique design was inspired by an ancient Chinese instrument recalling the concept of Yin & Yang. An aroma diffuser that is also an exquisite piece of art, Yun helps you find harmony
It certainly is a piece of art! I love the remote control that matches the diffuser, the option for no light or five different colored lights and the music (or no music option).  The diffuser is very quiet; I can hear just the slightest bubbling of the water. Another great benefit; it turns off automatically when the water level is low.
This is another quote from the company that seems to sum up their values and mission.
"Puzhen's brand was inspired by a belief in a contemporary and modern lifestyle complemented by traditional Chinese crafts, philosophy and aesthetics. Our product series support and generate this unique lifestyle to result in a better, simpler, and higher quality living environment."
Their diffusers are designed to nurture the five senses. The consideration of design, aroma, soft sounds, beautiful colors and the feel of clay or wood is central to each diffuser they create.
While the Yun and the Five Sense Sha diffusers may be large investments, it would be well worth it for a school or business for use in lobbies or treatment rooms. Each of the other models could be well suited for home use or in a business, and each has unique design qualities.  Which Puzhen matches your style and needs?
Click here to visit their site.
Related Posts:
The following two tabs change content below.
Aromahead Institute, owned by Andrea Butje, is a premier resource for online aromatherapy classes. Andrea offers her inspired approach to online aromatherapy certification through essential oil videos and original education materials. Check out her book, Essential Living: Aromatherapy Recipes for Health and Home, on Amazon!
Latest posts by Andrea Butje (see all)