I just love visiting essential oil distillers.
They're all such warm people who care deeply about the plants they grow and the oils they distill. Over the past few years, I've blogged about several of my trips to visit essential oil distillers around the world. This is a list of those blog posts featuring distilleries in France, Bulgaria, Croatia, and Greece. Enjoy!
If you want to import your own essential oils from distillers, Aromahead has developed an Essential Oil Distillers Directory.
This searchable directory offers you a simple way to locate over 50 essential oil distillers around the world, along with hundreds of high quality essential oils. This is a great way to support independent distillers, who put their hearts into all the hard work they do, and to ensure you're getting high-quality oils as directly from the source as possible. You can even develop relationships of your own with the distillers, which has the potential to deepen the way you connect with your oils.
If you're reading this via email rather than on the Aromahead blog, the formatting doesn't work well for this kind of list. Come visit the Aromahead blog to see the list, read the posts, and see the pictures.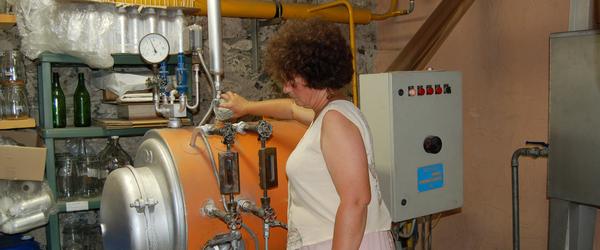 Andrea Butje
Owner
Stories of Essential Oil Distillers
Here is a list of Essential Oil Distillers I have visited around the world
This is a short slideshow /voiceover from a trip I took to visit several lavender essential oil distillers in France. Enjoy! Visit the Aromahead YouTube channel to watch Aromatherapy blending videos! Related Posts: The following two tabs change content below. Tagged as: Essential Oil Distillers, France, lavender, lavender distillation

I had been talking with Maja Simic via email for years but we had never met. Her business, Aris 2000, always interested me. When I decided to take a trip this summer to visit Croatian essential oil distillers, visiting Maja was at the top of my list.

Recently, I visited a a lovely couple in France who have a rose distillery called Verdon, Roses and Aromes. They produce some of the most amazing rose hydrosol I've ever come across. They have beautiful fields of organically grown roses. 5,000 bushes, and planting more every year!

While we were on Crete, we had the extraordinary opportunity to visit Gill and Derek Pearce at their organic lavender and olive farm, The Lavender Way. The Lavender Way is the only organic lavender farm in Crete. They produce and sell essential oils, sachets, gels, spritzers, tea and hand-made wands, and they ship worldwide.

After the distiller trip to Bulgaria, we went to Greece to visit another essential oil distiller on the island of Crete. Janina and Babis started Wild Herbs of Crete in 1994. All their essential oils are made from plants wildcrafted by hand and distilled with the utmost care and respect.

On my recent trip to Bulgaria, I visited the wonderful RKL Distillery, located in the village of Bial Briag. RKL Distillery is small, but has extensive, beautiful organic fields of herbs such as Lavender, Melissa, Yarrow and St John's Wort.

I flew to Bulgaria and drove into the Balkan mountains to a small, beautiful village called Mirkovo.
Related Posts:
The following two tabs change content below.
Aromahead Institute, owned by Andrea Butje, is a premier resource for online aromatherapy classes. Andrea offers her inspired approach to online aromatherapy certification through essential oil videos and original education materials. Check out her book, Essential Living: Aromatherapy Recipes for Health and Home, on Amazon!
Latest posts by Andrea Butje (see all)
Get our blog posts delivered to your inbox!