Essential Oil Chemistry: Oils High in 1,8 cineole
When we study how to use oils therapeutically, it's important to consider essential oil chemistry.
Essential oils are made up of hundreds of natural chemical components. These components are an important part of the essential oil's therapeutic action.
Understanding the chemical components helps us understand how essential oil might work therapeutically.
Essential oils offer us many incredible benefits--the aroma, the energy of the oil and plant, the plant part the oil comes from, the plant family...and the chemistry. Developing a more profound knowledge of essential oil chemistry is one way to expand our understanding of aromatherapy.
A great way to check the purity of each oil batch and more deeply understand the therapeutic properties and safety of essential oil is by buying essential oils tested with Gas Chromatography/ Mass Spectrometry (GC/MS).

Gas Chromatography (GC) separates the volatile compounds in essential oils into individual components, producing a linear graph that charts them.
Mass Spectrometry (MS) identifies each of these components and their percentages.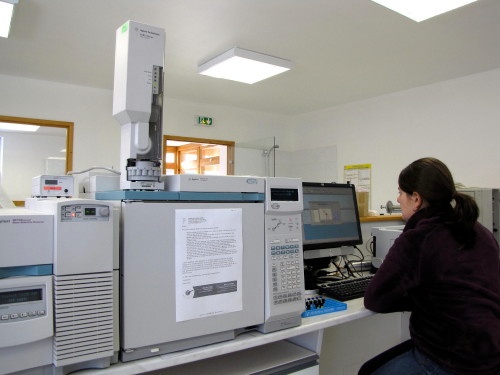 GC/MS is used to identify everything in the oil. We can learn a lot about the oil's therapeutic properties and safety issues and see any crude adulteration (if an oil is cut with a synthetic chemical or cheaper oil for financial gain).
Adulterated oils and perfume oils don't offer therapeutic effects and may in fact cause allergies, headaches, and chemical sensitivities.
The precise breakdown of chemical components laid out by a GC/MS report is important, as essential oils' therapeutic benefits and safety issues are, in part, determined by essential oil chemistry. Testing every batch of oil purchased with GC/MS technology checks the purity and provides a breakdown of the chemical components in each oil. This process is helpful for medicinal blending and quality assurance.
One component that has caught my attention over the years is 1,8-cineole.
These are a few essential oils high in 1,8-cineole:

Reading these reports is a powerful way to understand essential oils.
You learn this approach in the online Aromatherapy Certification Program at Aromahead Institute.
1,8-cineole is a remarkable chemical component offering strong therapeutic properties that have been well-researched. It has strong healing potential.
Listed below are the various properties of 1,8-cineole (and the oils with a significant percentage of 1,8-cineole in them). Next to the therapeutic property, I have a number referring to the referenced material from which this information comes.
These properties suggest using these oils during a cold or flu would help reduce pain, mucus, and headaches. They also help kill bacteria and viruses. They can reduce swelling (great for sinus infections), muscle spasms, and spastic coughing.
Therapeutic Properties of 1,8 cineole:
airborne antimicrobial 1

analgesic 2, 3

anti-inflammatory 2, 6, 7, 8

antibacterial 4, 5

antioxidant 21

antispasmodic 9, 10, 11

antiviral 18

hypotensive 13, 14

increases cerebral blood flow 22

mucolytic 15, 16
Safety:

Oils high in 1,8-cineole are to be used for inhalation and on the skin diluted in a carrier oil, butter or cream. Use 1,8-cineole-high oils with caution for those with asthma (make sure the aroma relaxes their chest and does not cause any sense of restriction).

For young children, be sure to diffuse 1,8-cineole rich oils away from their faces. I prefer to use a milder oil for them, such as Cedarwood (Juniperus virginiana). (At Aromahead, our approach is not to use essential oils topically for children under 5 years old.)
FREE TRAINING!
How to Become a Certified Aromatherapist
Dive deeper into the complex and nuanced world of essential oils! You'll learn foundational EO strategies you can use immediately, clearly understand where you are in your essential oil journey, and discover a proven path toward greater confidence, credibility, and opportunity through aromatherapy certification!
References:
Sato K, Krist S, Buchbauer G (2007) Antimicrobial effect of vapours of geraniol, (R)-(-)-linalool, terpineol, gamma-terpinene and 1,8-cineole on airborne microbes using an airwasher. Flavour & Fragrance Journal 22:435-43
Santos FA, Rao VS (2000) Anti-inflammatory and antinociceptive effects of 1,8-cineole a terpenoid oxide present in many plant essential oils. Phytotherapy Research 14:240-244
Liapi C, Anifandis G, Chinou I et al (2007) Antinociceptive properties of 1,8-cineole and beta-pinene, from the essential oil of Eucalyptus camaldulensis leaves, in rodents. Planta Medica 73:1247-1254
Pattnaik S, Subramanyam VR, Bapaji M et al (1997) Antibacterial and antifungal activity of aromatic constituents of essential oils. Microbios 89:39-46
Carson CF, Mee BJ, Riley TV (2002) Mechanism of action of Melaleuca alternifolia (tea tree) oil on Staphylococcus aureus determined by time-kill, lysis, leakage, and salt tolerance assays and electron microscopy. Antimicrobial Agents and Chemotherapy 46:1914-1920
Juergens UR, Dethlefsen U, Steinkamp G et al (2003) Anti-inflammatory activity of 1,8 cineole (eucalpytol) in bronchial asthma: a double blind, placebo controlled trial. Respiratory Medicine 97:250-256
Juergens UR, Engelen T, Racke K (2004) Inhibitory activity of 1,8-cineol (eucalyptol) on cytokine production in cultured human lymphocytes and monocytes. Pulmonary Pharmacology & Therapeutics 17:281-287
Santos FA, Silva RM, Campos AR et al (2004) 1,8-Cineole (eucalyptol), a monoterpene oxide attenuates the colonic damage in rats on acute TNBS-colitis. Food & Chemical Toxicology 42:579-584
Nascimento NR, Refosco RM, Vasconcelos EC (2009) 1,8-Cineole induces relaxation in rat and guinea-pig airway smooth muscle. Journal of Pharmacy & Pharmacology 61:361-366
Coelho-de-Souza LN, Leal-Cardoso JH, De Abreu Matos FJ et al (2005) Relaxant effects of the essential oil of Eucalyptus tereticornis and its main constituent 1,8-cineole on guinea-pig tracheal smooth muscle. Planta Medica 71:1173-1175
Bastos VP, Brito TS, Lima FJ et al (2009) Inhibitory effect of 1,8-cineole on guinea-pig airway challenged with ovalbumin involves a preferential action on electromechanical coupling. Clinical & Experimental Pharmacology & Physiology 36:1120-1126
Kako H, Fukumoto S, Kobayashi Y et al (2008) Effects of direct exposure of green odour components on dopamine release from rat brain striatal slices and PC12 cells. Brain Research Bulletin 75:706-712
Lahlou S, Figueiredo AF, Magalhaes PJ et al (2002) Cardiovascular effects of 1,8 cineole, a terpenoid oxide present in many plant essential oils, in normotensive rats. Canadian Journal of Physiology & Pharmacology 80:1125-1131
Pinto NV, Assreuy AM, Coelho-de-Souza AN et al (2009) Endothelium-dependent vasorelaxant effects of the essential oil from aerial parts ofAlpinia zerumbet and its main constituent 1,8-cineole in rats. Phytomedicine 16:1151-1155
Kehrl W, Sonnemann U, Dethlefsen U (2004) Therapy for acute nonpurulent rhinosinusitis with cineole: results of a double-blind, randomized, placebo-controlled trial. 114:738-742
Tesche S, Metternich F, Sonnemann U et al (2008) The value of herbal medicines in the treatment of acute non-purulent rhinosinusitis. Results of a double-blind, randomised, controlled trial. European Archives of Oto-Rhino-Laryngology 265:1355-1359
Worth H, Schacher C, Dethlefsen U (2009) Concomitant therapy with Cineole (Eucalyptole) reduces exacerbations in COPD: a placebo-controlled double-blind trial. Respiratory Research 10:6
Astani A, Reichling J, Schnitzler P. (2010) Comparative study on the antiviral activity of selected monoterpenes derived from essential oils. Phytotherapy Research 24(5):673-679
Matthys H, de Mey C, Carls C et al (2000) Efficacy and tolerability of myrtol standardized in acute bronchitis. A multi-centre, randomised, double-blind, placebo-controlled parallel group clinical trial vs. cefuroxime and ambroxol. Arzneimittelforschung 50:700-711
Meister R, Wittig T, Beuscher N, et al (1999) Efficacy and tolerability of myrtol standardized in long-term treatment of chronic bronchitis. A double-blind, placebo-controlled study. Study Group Investigators. Arzneimittelforschung 49:351-358
Saito Y, Shiga A, Yoshida Y et al (2004) Effects of a novel gaseous antioxidative system containing a rosemary extract on the oxidation induced by nitrogen dioxide and ultraviolet radiation. Bioscience Biotechnology & Biochemistry 68:781-786
Nasel C, Nasel B, Samec P, Schindler E et al (1994) Functional imaging of effects of fragrances on the human brain after prolonged inhalation. Chemical Senses 19(4):359-364