How to Make Gardener's Hand Scrub with Basil and Rosemary
Gardening 101: Sun, Soil, and a Scrub for Your Hands
. . .
As an avid gardener, I've learned a few tricks of the trade that I want to share with you. Whether you're a seasoned green thumb or just getting started, these tips will help ensure a pleasant experience while working in your garden.
Firstly, make sure to protect yourself from the sun. Wear sunscreen or a hat to provide plenty of shade. You'll also want to equip yourself with good gloves for weeding and trimming plants, keeping your hands safe from thorns, splinters, and rough edges.
After a day in the garden, cleaning your hands is a must. You'll need to scrub away the dirt and grime that's built up - especially from under your nails before you sit down to eat dinner. And trust me, a regular handwash just won't cut it! (Haha!)
To help, I've put together a DIY recipe for a Basil Rosemary Gardener's Hand Scrub. This all-natural blend is perfect for those times when your hands feel dirty, grimy, dry, or cracked. It's not just for gardeners; artists who work with materials like clay or paint will find it very useful as well.
Basil Rosemary Gardener's Hand Scrub
1 oz (30 ml) Avocado oil (Persea gratissima)

1 oz (28 g) pink Himalayan salt (medium grain)

7 drops Rosemary essential oil (Rosmarinus officinalis ct. verbenone)

10 drops Basil essential oil (Ocimum basilicum ct. linalol)
Make your blend in a 2 oz (60 ml) jar. I like to use a wide-mouth jar for blends like this. Aromatics International has a 2 oz (60 ml) wide-mouth jar that works great!
Creating your blend is as simple as can be. Start by placing the pink Himalayan salt into a 2 oz (60 ml) jar (I recommend using a wide-mouth jar for easy mixing). Then, pour in the avocado oil. As the oil sinks into the salt, the blend will remain loose and oily - just the way we want it! Lastly, add the essential oils and stir gently with a glass stirring rod or the handle of a stainless steel spoon.
While I personally love using pink Himalayan salt, you can substitute with any salt of your liking. I recommend a small to medium grain to effectively scrub off the dirt from your hands. A fingernail brush can aid in removing stubborn dirt lodged under your nails.
This hand scrub leaves your skin feeling nourished, moisturized, and silky smooth, eliminating the need for additional lotion or moisturizer. The essential oils offer a fresh, herbal aroma that's uplifting, and they're also great for reducing the presence of germs. The resulting fragrance is reminiscent of an herb garden, adding to the charm of this Gardener's Hand Scrub.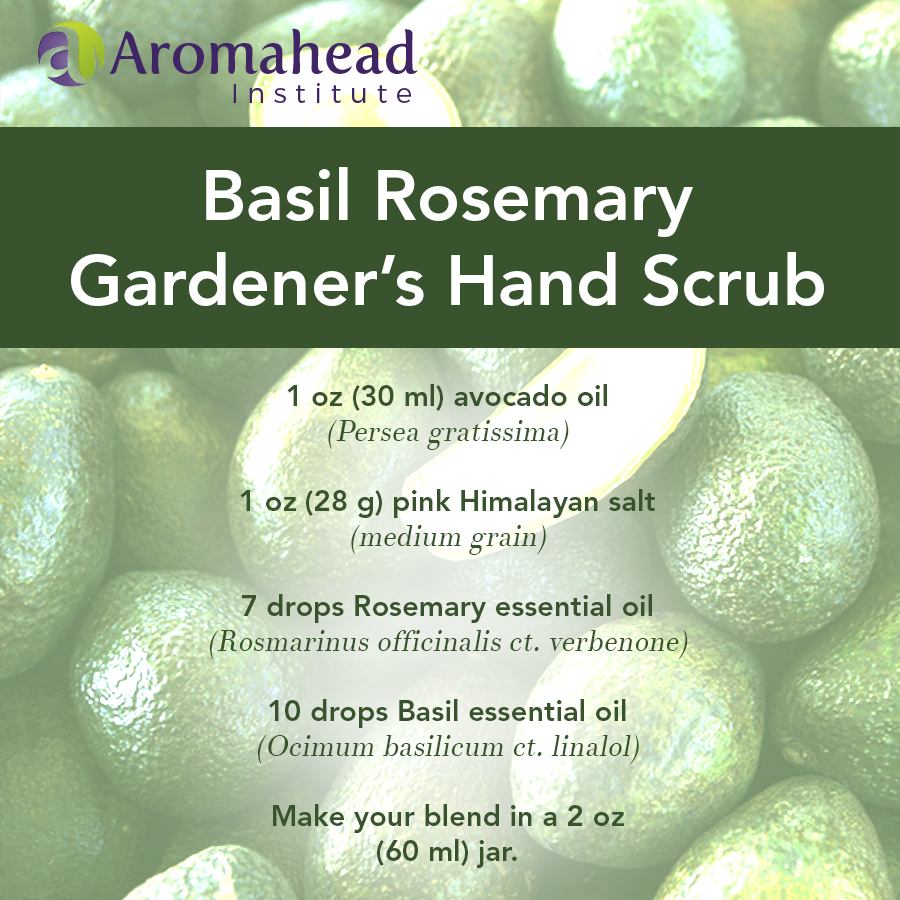 Remember, it's okay to get your hands dirty when you're gardening. After all, you've got an amazing hand scrub to clean up with afterwards. Happy gardening!